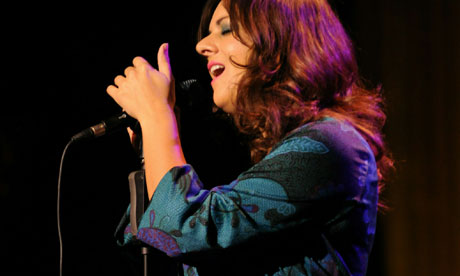 Rumer's pristine voice – a dead ringer for Karen Carpenter's – is best suited to the kind of luxurious easy-listening treatment that sold millions of records in the Carpenters' glory days but is now as antiquated as the vinyl LP. Nonetheless, a major label has decided there's a gap in the market, and, surprisingly, they seem to be right: her first headlining show sold out the day tickets went on sale. "Nobody expected it," she told us. "It's incredible."
It was clear she wasn't prepared for sudden success. Wearing a blue dress straight from a 1970s coffee morning, she moved stiffly, and groped for things to say between songs. (Her ultra-confident pianist had less of a problem there.) But it just emphasised the point that Rumer has nothing to sell but her voice, a warm, golden instrument that feels like an anachronism in the age of Auto-Tune. Matched with lush backing from an eight-piece band and material that made the most of it, her voice glowed.
Her delivery was poised and leisurely as she glided through most of her upcoming debut, Seasons of My Soul. The cocoon she created was so cosy that the melancholy trickling through the lyrics passed almost unnoticed. Aretha, for instance, is about a schoolgirl with "no one to confide in" but the soul singer on her iPod, while Slow runs: "You make me want to sing about love, even though you don't want to know." And that was the show's one real problem: Rumer enfolded us in emollient, mono-tempo music, and never upped the pace. She needs to rethink the set. Even the Carpenters demurely rocked out now and then.
At ABC, Glasgow (0844 477 2000) on 15 October. Then touring.